Ruh-roh! Looks like kudzu has finally come to Canada. How bad is it? You can actually watch it grow: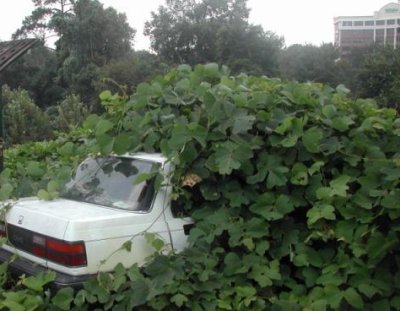 The patch of kudzu vine was found on a bluff overlooking Lake Erie in Leamington, Ont., a farming community about 30 kilometres southeast of Windsor.
It measures 120 metres by 50 metres and is "pretty well established" but contained, according to Rachel Gagnon, a co-ordinator with the Ontario Invasive Plant Council (OIPC).
"There's a possibility to control that spot before it starts spreading into new areas," Gagnon said.
If not destroyed immediately, the plant could wind up costing "millions of dollars to eradicate," said Rowan Sage, a biology professor at the University of Toronto, who began studying kudzu 20 years ago.
CBC News – Windsor – Invasive plant species takes root in Canada