Welcome to www.VillainSupply.com, Your Online Source For Everything EVIL. If you are a supervillain, mad scientist, warlord, dictator, or despot, then this is the place for you.


HELD OVER TO JANUARY:
CLEARANCE SALE: WEAPONS GRADE PLUTONIUM


In preparation for its impending annihilation by U.S. Forces, the Government of Iraq is liquidating its entire stock of Weapons Grade Plutonium-239. VillainSupply is acting as broker for this once-in-a-lifetime opportunity! Act NOW!!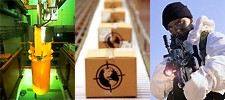 http://www.villainsupply.com