Even when he's nowhere near the building, he's still the biggest newsmaker at the CHUM Television nerve centre on Queen St. W.


Moses Znaimer officially relinquished his various roles at CHUM Ltd. on Friday . from an undisclosed location, outside of town . bringing to a close speculation about his future with the company he helped build from a small regional broadcaster to a burgeoning, innovative national network with an international profile.


He'll continue to be associated with CHUM as director, chairman and executive producer of Learning Skills Television and The Learning Annex in Alberta, obscure properties he and CHUM jointly own.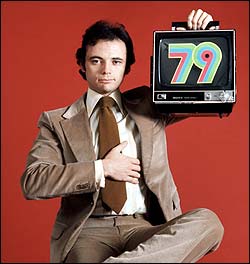 http://www.thestar.com/NASApp/cs/ContentServer?pagename=thestar
/Layout/Article_Type1&c=Article&cid=1051125568049&call_pageid=968332188492&col=968793972154