Yes, after fumbling around in Moncton with that old Targus bag, I figured it was time to get something rad and hip — something that would appeal to the kids, and would also carry around all my 12″ vinyl (like I have any of that yet). So I picked up this cewl new Samsonite courier bag, one that doesn't appear on their website yet, it's soooo high tech.


The Samsonite 'Tech Series' is a new line of computer bags aimed squarely at the younger crowd, the active 'techie', or the business person who doesn't want to haul around a 20 lb leather bag. This bag offers the user the abiity (sic) to convert it from shoulder bag to backpack in seconds, and also offers a sturdy handle for those times when you don't want to shoulder it. The 840-denier nylon gives the bag it's durability and lightweight. The colouring is distinctly 'High Tech' yet business-like, using mainly black with grey accents and some reflective piping on the main flap. Double rivets and internal reinforcements have been added to all the weight-bearing points to prevent any catstropic failure, especially when you're running across a busy street to catch your bus.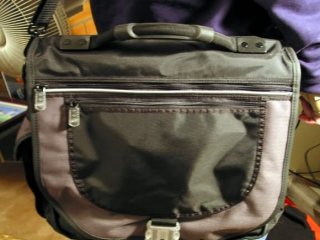 Yes, I'm just that cool. Soon, I'll have to get a new laptop just so I'll have something worthy of putting in my new bag.