CANNES, France (Reuters) – American film-maker Michael Moore's "Fahrenheit 9/11", a savage critique of President George W. Bush's handling of Iraq and the war on terror, has been warmly applauded by critics at its first press showing.


The fast-paced film by Oscar-winning Moore is a telling work of propaganda by a moviemaker whose zeal to deride Bush exudes from every frame.


Two years ago, the director's anti-gun lobby documentary "Bowling for Columbine" grabbed the headlines at Cannes and then went on to gross $120 million (68 million pounds) worldwide and win him an Oscar.


Fahrenheit 9/11 has already whipped up an international media storm after the Walt Disney Company barred its Miramax film unit from releasing such a politically polarising work in a U.S. election year.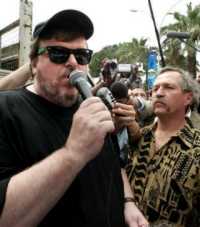 http://uk.news.yahoo.com/040517/325/etr05.html