As a side effect of the troubles I had earlier this week, regarding my Internet connection, I now have a snazzy new 3Mb modem, and my pr0n downloading has never been faster. I figured I might help anyone else in the Ontario, Canada neck of the woods, should they choose a modem from eBay, or from a small-time computer shop around town. If you are unfortunate enough to have bought a "reprogramming necessary" SpeedStream 526x modem from Efficient Networks (the same folks that brought you EnterNet 300), you can use this info to get up and running a little faster — provided you have some other means of getting on the InterWeb.
Mine is one of those ones that can't be flashed and upgraded to a 5660 model — one of those ones that's actually a router *and* a modem, but that's not a problem (or, rather, not a problem any more, since I picked up that inexpensive D-Link router. Mine's a SpeedStream 5260(5262). While it doesn't get a firmware upgrade, it *can* be upgraded using any kind of software that will also change the VPI/VCI options that are factory programmed into it. They do this for certain ISPs, and it makes the modem useless for other ISPs, so you won't be inclined to take the modem and get service elsewhere — or perhaps it's some kind of regional thing, like the Americans with Daylight Savings Time (sorry, couldn't help but throw that in).
Luckily, Efficient Networks makes one of these software applications, EnterNet 300, which is provided with many DSL service providers in Ontario. An older version is needed (but new enough that it supports Windows XP). Enternet 300 1.5c SP2 is what I used (hint, you can find it on the WayBack Machine, if you know the URL). The problem with some of the newer ones (from what I've heard) is that they deliberately hide the "DSL Modem" programming tab. So find an old version which works on XP.
Another problem is that the "DSL Modem" tab doesn't always appear, even when you go with the older version. I haven't found any real pattern, except that some XP boxes will show it to you, while others won't — it's as if they don't detect the modem. See below: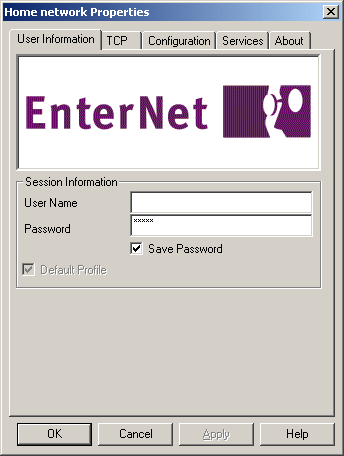 If you do get the "DSL Modem" tab under the Connection Properties window, you can change (effectively reprogram) the DSL modem from its factory defaults, so that it will work with your ISP. You have to change the VPI/VCI options for the modem to conform to your DSL ISP. Any decent tech support rep should have these numbers handy.
From what I found on DSLreports, "In Ontario and Quebec, any DSL modem that supports the G.DMT protocol will work with any DSL ISP. Before purchasing a modem, ensure the modem supports G.DMT or it will not work. The modem must also be able to be configured to a VPI of 0 (zero) and a VCI of 35. Most modems will allow this change, but check that the modem has this ability. If the VPI and/or VCI are set incorrectly, the modem will still sync but you will not be able to negotiate a PPPoE connection." True enough, once I set the modem properly, I was able to get it to connect, using EnterNet 300. Once I installed my new D-Link router, everything was fine.