(This guy taught me how to speak French …)
Actor Marc Favreau, who gained fame in Quebec playing Sol the hobo clown, has died. He was 76.
Favreau died of cancer in hospital on Saturday.
In Ottawa, Gov.-Gen. Michaelle Jean said Sunday she learned of Favreau's death with great sadness.
â..Sol, the great magician of words, has left us,â. she said in a statement, adding he won hearts over the years and opened eyes with his comedy.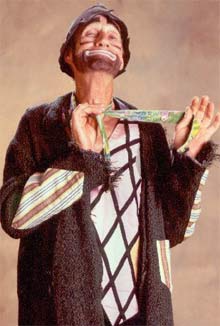 The Globe and Mail: Sol the hobo clown actor dies at 76