Over at Stranger Fruit, John Lynch has linked to a charming photo of someone who is allegedly Darwin, further allegedly signed by Darwin. The photo accompanied an Ed Larson article published in the November/December 2005 issue of Historically Speaking: The Bulletin of the Historical Society, produced at Boston University. Furthermore, it is found in the online archives of the Yale University Beinecke Rare Book and Manuscript Library, in the Julia Margaret Cameron collection.
However, many of us Darwin fans think that this photo is not Chuck, and that someone, somewhere, has Officially Screwed Up. Mind you, itâ..s not quite as bad as 2004, when Barnes and Noble was selling the Autobiography of Charles Darwin with a photo of Alfred Russel Wallace on the cover, but a screwup nonetheless.
The question remains: Who Is That Bearded Man?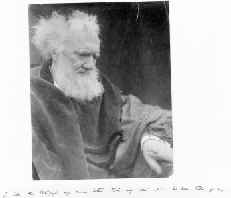 The Panda's Thumb: Who is that Bearded Man?!