I'm no religious nut, but I gotta say… Ah Christ.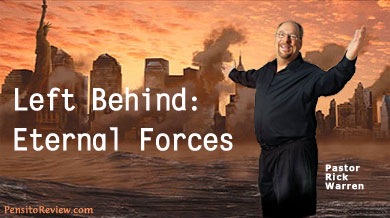 Talk To Action | Violent Video Game Marketed Through Mega-Churches (Part 2)
Imagine: you are a foot soldier in a paramilitary group whose purpose is to remake America as a Christian theocracy, and establish its worldly vision of the dominion of Christ over all aspects of life. You are issued high-tech military weaponry, and instructed to engage the infidel on the streets of New York City. You are on a mission – both a religious mission and a military mission — to convert or kill Catholics, Jews, Muslims, Buddhists, gays, and anyone who advocates the separation of church and state – especially moderate, mainstream Christians. Your mission is "to conduct physical and spiritual warfare"; all who resist must be taken out with extreme prejudice. You have never felt so powerful, so driven by a purpose: you are 13 years old.
A top aide to mega-church pastor Rick Warren is advising the makers of a children's video game in which characters kill New Yorkers while shouting "Praise the Lord." When children tire of converting or killing New Yorkers, they can switch sides and command the demonic armies of the AntiChrist, and kill the conservative Christians. The real-time strategy game, slated for release in October 2006, is based on the best selling series of Left Behind novels by Tim LaHaye and Jerry Jenkins. The web site of Left Behind Games states the involvement of Mark Carver on its Advisory Board. This web-based marketing tool also highlights his role as Executive Director of Mr. Warren's Purpose Driven Church. What appears to be going on here is an old-fashioned business practice called "endorsement by association."
This is the story that Talk to Action broke on Memorial Day, and it has drawn significant interest from the blogosphere. Dozens of sites have linked to the original story, including Pandagon, The Agonist, The Center for American Progress, Air America, and two "Daily Dish" items by Time magazine's Andrew Sullivan.