Awesome. Click here and break a commandment. Or something.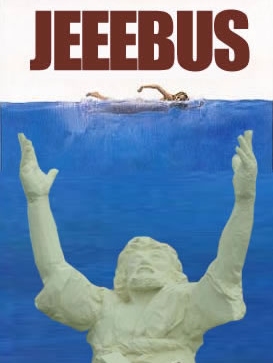 JEEEBUS – that's with three E's
The image – the "graven image" if you like – on the right is a statue, affectionately known by many Cincinnati/Dayton locals as "MC 62ft Jesus", by others as "Touchdown Jesus", (and by comedian Heywood Banks as the "Butter Jesus")
Located in front of the Solid Rock Church – on the east side of I-75 near the Monroe exit in Southern Ohio – it has become an modern day icon for many.
For us folks at jeeebus it has become both a thing of beauty and a target of some ridicule.