Awww, too bad. Of the 117 other plates you can get, there are "Family Values" and "Choose Life" options. I guess the X-tians behind the "I believe" plate implicitly wanted to reject these. Granted, if you're going to have a dozen manitee license plates, along with every school, public and private, you should be allowed to pay your $25 and get whatever you want on a license plate. But maybe that's not what the "I believe" people had in mind… because that might lead to a "Pro Choice" plate, or an "Allahu Akbar" plate, or (gasp) a "Darwin" plate.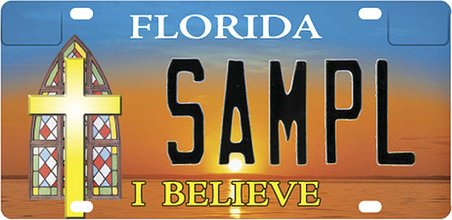 I bet this plate would get in: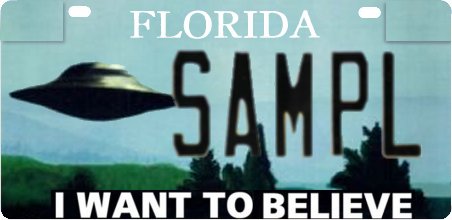 'I believe' license plate fails to get Legislature's blessing — South Florida Sun-Sentinel.com
A license plate that would have become the first in the nation to prominently feature a religious symbol is unlikely to be on the road any time soon after state lawmakers did not include it in a bill Tuesday.
The plate, which included an image of a Christian cross, stained-glass window and the words "I Believe," is not in legislation passed late Tuesday that's now headed to the governor.
Opponents of the plate said approving it would result in a court challenge because it violated the separation of church and state and gave the appearance the state was endorsing a particular religious preference.