Finally a church that doesn't discriminate (per se).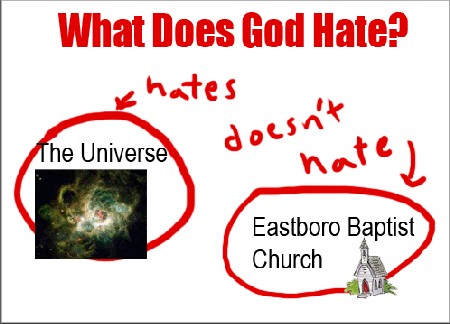 Eastboro Baptist Church Home Page
God hates EVERYONE except the Eastboro Baptists. This includes FAGS, black people, every other race except white people, fat people, unattractive people, cancer patients, children, babies, Mexicans, Swedes, Norwegians, Scandinavia in general, non-Americans, all other Americans except us, immigrants (illegal and legal), feminists, liberals, aborted fetusâ.. (for they have committed the ultimate sin), the cognitively disabled, deaf people, blind people, scientists, Darwin, environmentalists, Al Gore, Jews, Catholics, Evangelicals, Mormons, Muslims (except for the ones who hate the U.S.), Musselman's Applesauce, people who follow any religion other than our imaginative version of Christianity, citizens of whatever town we happen to be picketing in, victims of any tragedy that makes the national news and their family and friends, kittens, etc. — You are all sinners in the eyes of the almighty God!