This one came out a little salty, but blame the Lipton soup company. Kids will love it, it's super cheap, there's no worry about chopping vegetables, and if you like onions … well, hang on to your tastebuds pardner, cause this one goes all the way. Here's what you need for Kraft Dinner Onion Extreme:



2 TBS margarine

3/4 cup milk (or "So Good" brand soy milk)

1 Pkg. Kraft Dinner or reasonable facsimile

1 TBS Parmesan cheese

1 Pkg. Lipton Onion Recipe Mix (or Onion Soup Mix, either one will do)

1 TSP oregano

Boil the KD noodles as per instructions, and drain, but do not add cheese, milk, or margarine. Return pot to the stove and reduce heat to minimum. Add margarine, milk, and recipe mix. Stir and increase heat slowly. Bring to a gentle boil and allow liquid to thicken (give it about 5 minutes). Reduce heat, add the cheese package, and stir in the noodles. Mix it all together, and add the Parmesan cheese and oregano. Serves four. Or two. Actually I finished most of it off myself. It was that good.
And be sure to provide plenty to drink. You'll be thirsty later. One good alteration to the recipe is to use only half of the package of onion mix. Another alteration is to not use Kraft Dinner. Heh heh. What I mean is I used a knock off brand called Value Choice Macaroni and Cheese. Just as good. Only 33¢. If you're looking to save money, remember that you can substitute cheaper ingredients much of the time…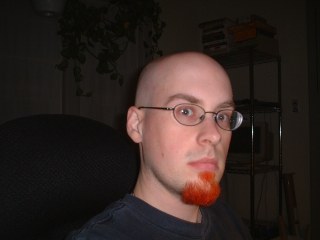 Trying out the digital camera tonight. Really brings out the colour in my beard. Shows the importance of ambient lighting when composing a shot.