As far as online virtual reality metaverses go, this one's pretty good. It's apparently been around since 1995, and has a similar interface to ActiveWorlds. But it's much much better, and didn't cost anything to get online. There's a pretty extensive avatar list, and you can probably make your own. Still looks like a Dire Straits video, however.


Communities of users build their own houses, cities, and, in some cases, worlds. With 900,000 subscribers, AlphaWorld is supported by advertising and by subscription fees ranging from $10 to $1,000, based on how many users there are and how big a virtual space they occupy.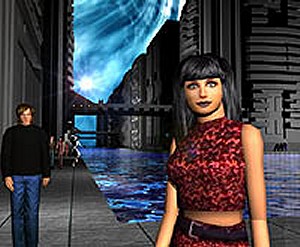 Some features:



A huge selection of avatars: many human, human-like and animal.

Text chat with whisper & mute.

Numerous viewpoints that you control: The camera that follows your avatar can be set in 1st or 3rd person and at different positions and varying speeds.

Discussion groups you can join at a click of a button – Let's talk about.

Free, anonymous email – send and receive mail to your Worlds.com username account @3dcd.com.

Get easily acquainted with other users by viewing the Personal Info they chose to share.

Keep track of your Worlds.com friends via the Friends list: you'll always know when your friends are online!

Teleport instantly to new locations via the map, or follow a friend to join her/him instantly.

Listen to music within Worlds.com.

Worlds.com is constantly evolving – get automatic upgrades.

Explore Worlds.com's Web-of-Worlds. easily using WorldsMarks, which are much like Bookmarks & Favorites in your Web browser.

Check out all the interesting 3D spaces, and try to find some hidden rooms.

Enter contests and win prizes.

http://www.worlds.com/index.html