A friend sent these around today. Apparently they're from a series of storms in Alberta, but since it was from a friend of a friend (FOAF), I can't verify the source of these images.
But they're really beautiful, and terrifying at the same time. I'm hoping not to see anything like this while I'm out canoeing.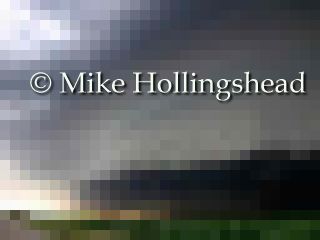 Update: These images are actually photographs of tornadoes taken by storm chaser Mike Hollingshead in Nebraska and Kansas in late spring 2004.
http://extremeinstability.com/my_profile.htm
http://extremeinstability.com/2004photos.htm
Update #2:
OK, I've removed these images, except for one. Apparently this guy, Mike Hollingshead, has had a real bad time of it, seeing his pictures being stolen — not simply stolen (like we all do, by taking images off websites), but people stole these images and passed them off as their own (such as my co-worker's "friend in Alberta"). And Mike's actually linked to my site, as well as hundreds of other sites, newspapers, television channels, etc.:
"These images have now been seen by soooooooooooooooo many people it is not funny(millions). It is really crazy what these images have done and where they have gone. I'm 99% certain whoever first stole them and posted them somewhere did so by grabbing them from my portfolio at www.photosig.com(which I've since scratched and slowly started over with embedded © marks). This might have happened before Christmas 2004. The first place I think I saw them posted was the big-boi.com site…with no mention of who's they were. Then a few more sites got them forwarded. One site is a biggie, ebaumsworld.com. I tried to curtail things way back then by sending e-mails but they didn't care(4 e-mails to Ebaums….0 replies). So, they certainly contributed to this big snowball. The passing of them was in full swing by May 2005. All spring and summer I'd hear of them labled wrong. I was literally hearing about them at least once a day. I can only imagine the cases I wasn't hearing about, because remember there is zero credit given with these as they were going around, other than the places they were being wrongly claimed to have been from. So as they went the only way anyone could know the real truth was if someone on a site or forum, or e-mail chain knew the truth and stopped to point it out."
I'm going to do Mike a small favour, more of a gesture than anything else. I've removed the images, except for the one above, and I've made it so that no one will want that one.
Stealing images, media, and music for your own personal reasons is one thing (and it's, to some extent, legal in Canada). Stealing something and passing it off as your own is bad form. Passing it off as pictures taken of Hurricane Katrina, and other unrelated events is just stupid. I don't expect to hear from Mike at all, nor do I want to. I just feel a little bad about all of this.