We spent the weekend in Ottawa, attending a friend's wedding. I haven't been in Ottawa for years now — since I was in school. High school. I don't know why I haven't been there since. It's a beautiful city; more metropolitan than here in KW, yet smaller and more friendly than Toronto. A great deal of French is spoken in this town, and I'd very much like to be in an environment that immerses you in French this way (with a suitably large English safety net). It even seemed more French than Montreal.
We stayed at the Chateau Laurier, in part because it's an historical landmark (and you should stay at least once in an historical landmark — it's the law). It was also less expensive than most convention centre hotels here and in the U.S. Our room was on the 5th floor, and had its own tiny (and inaccessible) balcony. We faced Wellington St. and got a neat view of the downtown.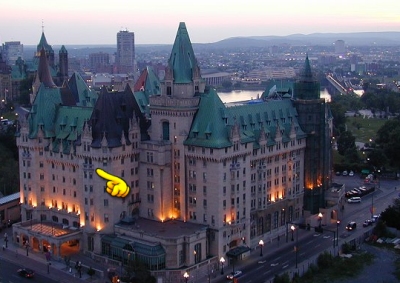 We ate at the nearby Métropolitain Brasserie — a fantastic restaurant that served us oysters, cocktails, and wine. I had a poached salmon with a lime cream sauce and fantastic roasted blue potatoes; R ate broiled swordfish with gnocchi. Hers was spectacular. Mine was delicious, but more sensible — and I regretted that.
We met the bride and groom for beers at Vineyards Wine Bar Bistro, and chose from a selection of dozens of beers. I bought the round for the bride and groom, since — well — since tomorrow was their day. We stopped just short of our limits, and we walked back to the grand hotel.
We checked in dressed very casually — I was unshaven and wore a hawaiian shirt and jeans. On the way out, we were wedding formal, since the wedding was on the Sunday at 10am. You get some seriously good service if you're dressed well. I wished we had dressed better going in. Sometimes it's fun to play dress-up when going to new places.
The whole time we drove, my car sounded like a tricked-out Honda Civic. My muffler was rusting away, and it was time to replace it. When we got home, after a 6 hour drive, I found out that the heat had scorched the fabric lining the bottom of the trunk, and our clothes picked up a scent of burning oil. The car's in the shop today, getting a new muffler. Luckily, nothing caught fire. That might have ruined a fantastic weekend trip.