Weird when this kind of stuff happens to you. I live and work within this 10km strip of disputed land.
Luckily, no one's been by to collect any money … except the usual people.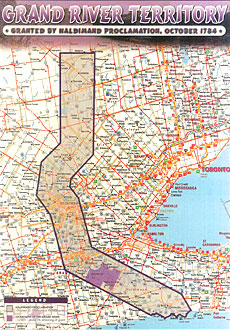 Natives demand royalties for land
In a Canadian precedent, a First Nations has created its own bureaucracy to collect royalties, approve plans and set environmental standards for any development on its traditional lands — a swath of prime Southern Ontario real estate.
The four-month-old Haudenosaunee Development Institute set up by the Six Nations in Ontario has sent letters to municipalities and is also approaching developers privately to hammer out deals, with the implied alternative being the kind of economic disruption that has blocked highways, rail lines and housing developments in the province.
"This is a first in Canada for a [First Nation] to say we are going to take this matter into our own hands, because historical evidence would suggest the governments of Canada and Ontario are either unwilling or incapable of finding creative solutions," said Aaron Detlor, the administrator of the HDI, which was created by the Six Nations Confederacy Council.
But the province has said the HDI has no authority, municipalities up and down the Grand River are ignoring it and at least one home builder has likened its demands to a mob-style shakedown.