Me confused… wasn't Clone Wars already done (and done better) by Genndy Tartakovsky? This thing looks like Reboot, but less interesting, and poorly animated.
Now a Reboot movie. That would be cool.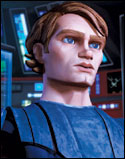 Animated 'Star Wars' to hit theaters – Entertainment News, Animation, Media – Variety
Another "Star Wars" tale is on its way to the bigscreen, but it won't be distributed by Fox.
Lucasfilm has partnered with Warner Bros. Pictures and Turner Broadcasting on "Star Wars: The Clone Wars," a 3-D toon that will bow in theaters this August before moving to the smallscreen in the fall. The Aug. 15 feature will set the stage for the spinoff skein, which will bow on Cartoon Network, followed by airings on TNT. International release dates for the feature and TV series are still being set.
Multiplatform project is an expansion of the earlier "Clone Wars" microseries that aired on Cartoon Network. However, Fox's homevid arm released those episodes on DVD, just as it has distributed every "Star Wars" theatrical release since 1977.