Available at ThinkGeek. Finally, I can combine my need to keep my knives organized with my need of throwing them at spinning circus people.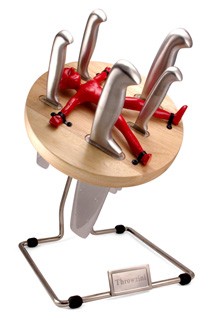 ThinkGeek :: Throwzini Knife Holder
Whether you have a zeal for throwing steel or you're a cutlery connoisseur, this knife block is just for you. In 1938 the Wheel of Death introduced the spinning target stunt to knife throwing and decades later knife throwing still lives on in the modern day circus. And it can live on in your kitchen (although in a much less dangerous fashion) with the Throwzini Knife Holder.