Oh my god, what a nerdfest. I'm not saying I'm not interested … OK, I'm saying it.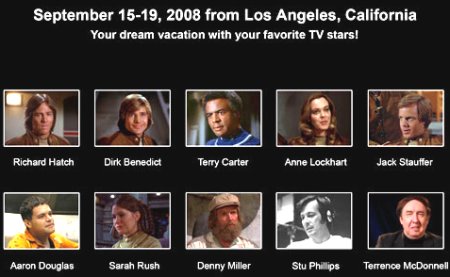 GALACTICRUISE – The 30th Anniversary "Battlestar Galactica" Cruise | Battlestar Galactica
With the 30th anniversary of the 1978 Battlestar Galactica series on September 17, 2008, the Battlestar Fan Club and Carnival are pleased to present GALACTICRUISE, the Official Thirtieth Anniversary Celebration. Set sail with your favorite Battlestar Galactica stars, cast, and crew on a four day cruise from LA to Mexico and back from September 15 to September 19, 2008 in this unique event, where convention meets cruise on the high-seas.
Cabins and event tickets (starting at $489, including your four day cruise, cabin and all meals) are going fast, so make the jump to lightspeed and book your cabins, get your event duckets ("tickets" in the Battlestar Galactica universe), and treat yourself with this once-in-a-lifetime opportunity! Only on GALACTICRUISE!