Awesome on so many levels. Is it weird that my two favourite authors are Maurice Sendak and H.P. Lovecraft? No, I don't think it is.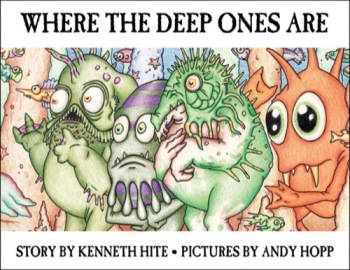 Atlas Games: Charting New Realms of Imagination
"The Deep Ones croaked their terrible croaks
and smacked their terrible lips
and rolled their terrible eyes
and waved their terrible flippers"
Renowned Mythos aficionado Ken Hite retells H P Lovecraftâ..s classic "The Shadow Over Innsmouth" in this story of childhood terror.
After greedily yelling for more fish, young Bobby is sent to his bedroom without any supper at all. But Bobby escapes when the Manuxet River runs right through his room carrying an old boat that takes him to Innsmouth. When the Deep Ones come for him he flees, but when he eventually joins their wild rumpus under the ocean, they crown him the most Deep One of all.
Now I want to see a Lovecraft version of Higglety Pigglety Pop. It's no secret that H.P. Lovecraft's initials stood for "Higglety" and "Pigglety".