Need a place to stay for the night? Got an obscene amount of cash burning a hole in your pocket? Fear not, we can still accomodate you.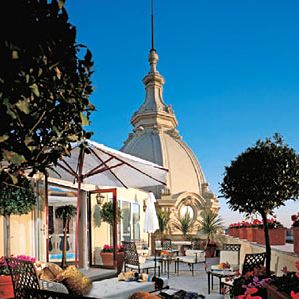 Top 10 Most Expensive Hotel Suites
Number 1 — Villa Cupola
Nightly Rate: $29,254.96
Hotel: Westin Excelsior, Rome
Perks: Pre-arrival, guests provide their preferences in flowers and cigars for custom arrangements and post-dinner relaxing. A stay begins with a welcome massage in the privacy of the suite, which features Italian frescoes, stained glass windows, a private kitchen and wine cabinet with over 150 wines to choose from. There's a walnut-paneled library, a fitness area and Jacuzzi with vaulted ceilings, a private cinema with surround sound and almost 2,000 feet of balcony space, including a sun deck, overlooking the Via Veneto district.
So be sure to keep a cigar preference handy. No telling when someone's going to need this information from you. Mine's a Cohiba Siglo II Petit Corona (in case anyone asks).