I'm looking at getting a new toaster sometime. Mine just leaves a big toast-sized burn mark on both sides of the toast.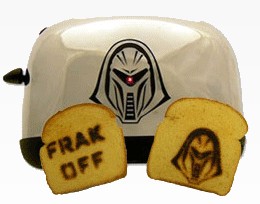 The toaster has a Centurion's face on its side complete with a red LED light that moves side-to-side, just like a Centurion's eye. It also has two different plates on the slots now: one burning the Cylon image, the other burning the phrase "FRAK OFF." I like to think that the hostility is directed at the Darth Vader toaster. It makes the toast extra crunchy.
Oddly enough, this new Cylon toaster is supposedly produced for the San Diego Comic-Con and only 2000 units are available, yet you won't be able to buy it at Comic-Con (though it will make appearances at the Con as a display). If you want one, you have to purchase it at the NBC-Universal online store and they'll ship it to you in September. Be aware, though, that this kind of BSG goodness will set you back $90. If you do choose to get it, I hope you'd still have money left to buy the Complete Series Bluray.