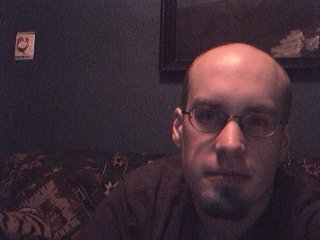 Watching "Shallow Grave" tonight. Drinking a bottle of Fiddler's Elbow. Pretty tasty beer, if you ask me. I ate some Heinz Macaroni and Cheese for dinner — the worst tasting stuff I've ever had!! I'm not one to eat canned pasta, and I've not tried most of the other brands, so there might be worse pasta out there. But this stuff was pretty bad.
I'm not sure what prompted me to buy canned pasta. Maybe it was the thought of having a self-contained meal with almost no preparation time. Maybe it was my feeble attempt to live more like Mel Gibson in "Conspiracy Theory" (although he was eating tapioca pudding). Maybe it's cause it was only 79 cents a can. Who can say for sure?
Still weirded out about the huge electric bill, so I shut down the Shoutcast server for a while, until I can get Icecast setup on my OpenBSD box. Then Radio Zuckervati will be back online. I'm pretty sure I'm the only one listening to it anyway.