A man in America has cheated death after an accident with a nail gun left six nails embedded in his head.


Doctors at a hospital in Los Angeles feared that they would not be able to save the life of builder, Isidro Mejia.


Isidro was working on a building site in California when he fell from a roof and on to a co-worker who was using a nail gun.


The nail gun discharged, three nails penetrated Mejia's brain and one went into his spine below the base of his skull.


Another went through his face.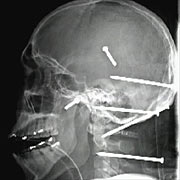 http://www.sky.com/skynews/article/0,,30200-13081259,00.html