Been playing around with this interesting Linux distro, ubuntu. One of the guys here had a few CDs delivered (for free) and we wanted to try it out and see if it was a useful Linux workstation replacement for Windows. The name was pretty interesting, initially reminding me of the poor Dr. Mubutu from Futurama (to shreds, you say). Apparently, it's an African word, meaning "humanity to others".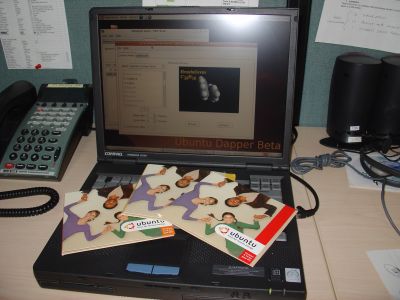 Sure enough, it was a pretty straightforward installation — only one CD, unlike the dozens you get these days from bigger distributors, such as Red Hat and SuSE. As long as you have a network available, you don't really need more than one CD, and it's much less intimidating, that's for sure. The interface was kind of basic — old school Linux — but it did something Red Hat never did… it found all the drivers it needed, including sound, video, etc. for the (ancient) Compaq Armada E500 laptop I was using, and it setup the network interface without a hiccup.
What's more, everything I needed for basic desktop usage was there. I was able to map a drive to the Windows network's filesystem, and drop a share on my desktop. Gimp and OpenOffice were in place when I finished, and I was even able to auto-update as soon as the system rebooted. Pretty easy stuff. It was perhaps the most impressive Linux install I've ever seen — I bet my mom could install this.
After we played with the hundred or so screensavers, my co-worker upgraded the whole thing to ubuntu's Dapper beta, which gave us a boost to performance, at a cost of stability. The KDE desktop hung when trying to preview a couple of the more complex, OpenGL screensavers, and we had to shell into the machine and reboot it.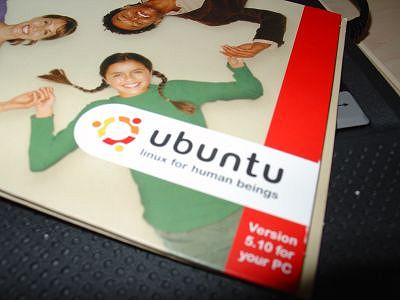 They sent us CDs for PC, 64-bit PC, and Mac PowerPC. You can order your own free CDs from http://www.ubuntu.com/.