Just got back from spending a week on an island in Harry Lake, up in Killarney. There were 2 largish portages, and a troublesome 30m portage on a track with a cart. Overall, there was about 20km of canoeing — much of it through marshy water. Last time we were up there, we stopped in the north arm of Balsam Lake. Given a choice, we would have done that again, and missed the two big portages. However the island was quite fun, and I'd recommend it to anyone travelling up to Harry Lake.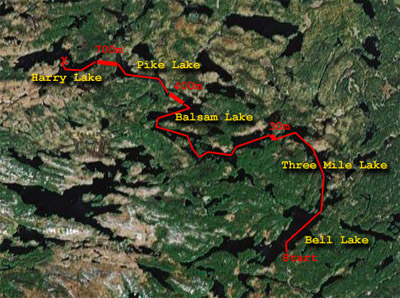 It was quite a trek, and portaging the 85-pound canoe over 1.1 kilometres was pretty hellish. We left around 8 in the morning from Kitchener, and tried to account for the 6 hours of canoeing required. We arrived at Harry Lake just after sundown, and located the island just before we lost all visibility. It was a pretty dangerous move, but we arrived safe and sound.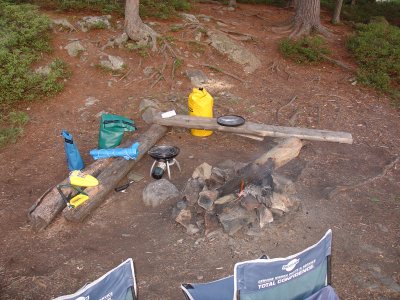 The island was pretty big (a little bigger than Fish Island in Lake Opeongo, Algonquin. We got a little scared when frogs jumped against our tent in the middle of the night, but got even more nervous when we heard heavy footfalls nearby. Something with hooves also resides on the island — likely a deer or something similar. R caught a glimpse of it running away, but we didn't get any blurry pictures of Sasquatch.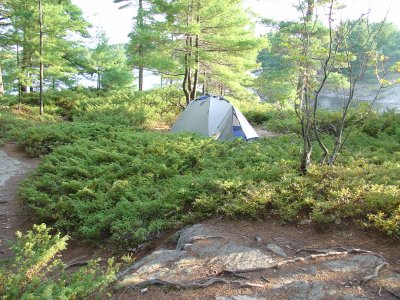 Across the channel from the island is a grave marker for one Aaro (Mike) Mikkola (1911-1962) and one Andrew Akers of Johnstown PA, USA (died ~1985). They apparently both loved to fish. It made it a little creepy to be sleeping nearby.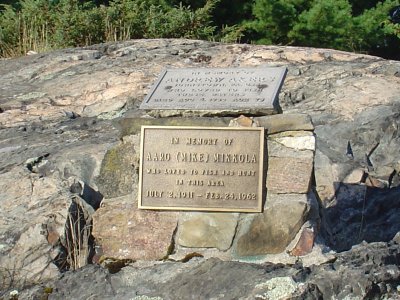 It rained one night, and I fell in the lake once (don't ask). We're getting pretty used to the whole camping thing, and it's losing its edge a little. We'll have to think of more interesting ways to do this in the future, or we'll probably shift to some more extreme kind of sport, such as base jumping, or eating turducken.