I took Friday off and a bunch of us drove down to Chicago for the Easter weekend. It's actually not that bad a drive, if you don't count the treacherous potholes on the I-69 and I-94. No wonder SUVs are big in 'Merica — driving on the roads can be lethal, as was evidenced by the number of median-crossings and blown tires on the trip.
We shacked up at Casa-del-Toxin and tried out various restaurants in the Lombard vicinity. We got some stuffed pizza, waffles, and even dined at a local hookah bar. Got some funny pictures of people smoking a hookah. I'll try to get them online later.
We also got a chance to check out some jazz at the Green Mill club. The place is a dark, gaudy, smoke-filled place with cramped booths and bathrooms. The music was pretty good; it was the Pat Mallinger Quartet, with Bill Carrothers on piano. We came in for the second and third sets, and left just after the after-hours group started playing. We managed to scam a booth too, though we had to stuff five people into it, and it was facing *away* from the stage.
Here's the view from the front door. Notice the two bathroom doors at the back of the building. The men's room is on the left, and is as wide as its door: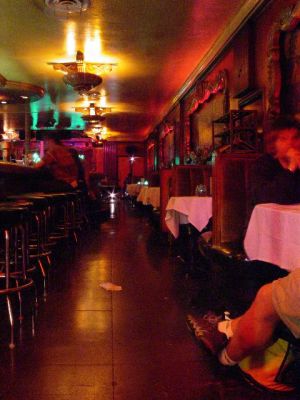 Here's the view of the back of the bar. Yes, that is a pillar in the middle of the stage.