Kitschy Things About Salt Lake City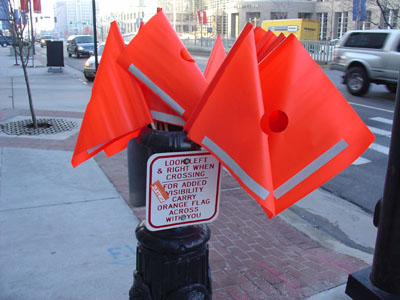 Yes, they have a bucket of flags at each crosswalk in downtown Salt Lake. I'm wondering if they have a guy who comes along periodically and refills the buckets. I was so tempted to steal them, or to at least grab a couple and use them to flag down a taxi.
And what happens if all the flags get used up when people cross over? What if the bucket is empty and all the flags are on the other side? This is a city with 6 lanes of traffic in their downtown streets, with state-of-the-art traffic lights: signals for the blind, etc. Why couldn't they spring for some crosswalk lights?