We spent the May 2-4 weekend in the sun, getting our basic cruising certifications. Now I'm officially a day skipper. It's part of R's elaborate plan to have us fully certified and experienced when we start sailing around the world. Sure it sounds like a crazy plan but it also sounds incredibly exciting. What it will likely allow us to do is to charter boats when we go on vacations in the Caribbean. For that we should probably also have some Intermediate Cruising and Coastal Navigation certs.
We got the training done by a couple of competent instructors up at the Island Yacht Club on Muggs Island in Toronto Harbour. It's a really swanky club that's unfortunately only open during the summer. We could get used to hanging around in a Yacht Club. I keep picturing myself all decked out in a cravat and blue blazer, just like Thurston Howell, sipping a Mojito and going on about how belligerent the staff are. The staff was anything but — they were quite helpful.
Saturday was really gusty with 15 knot winds. We set out with a jib and a full main, and I was periodically terrified and exhilarated. R was having fun, cheering like a kid on a rollercoaster. I'll need to get used to watching the boat heel enough to have waves shoot up over the deck and into the cockpit.
On Sunday, we had to loan our training boat (a 24′ Shark) to another team of students while their boat (a Tanzer 22) was being re-rigged after its headsail halyard broke. So we also got our Pleasure Craft Operator license test done. Two certs in one weekend!
Monday's sail was not very windy, so in the 2 hours it took to get us out of Toronto Harbour, I snapped a few pics.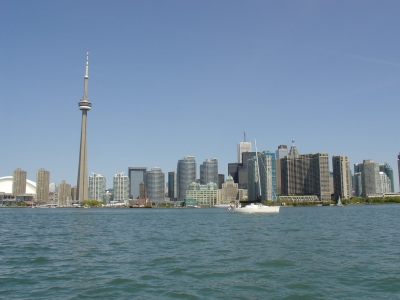 Yes, it looks like a postcard, but I actually did take this picture.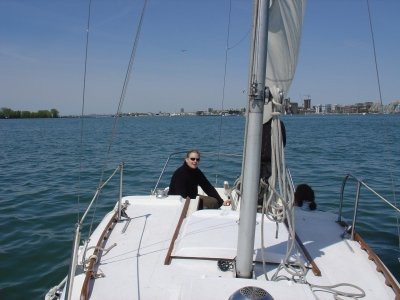 R was getting some sun, and some helm-time.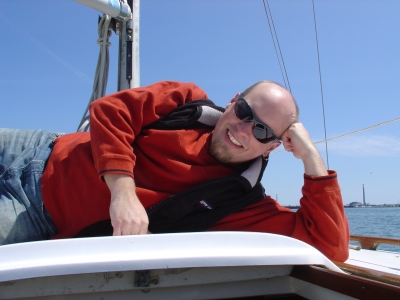 I was goofing off, of course. I never once fell overboard, nor did I get seasick; a new record for me.