Not having seen the films or read the books, I have no opinion on the matter.
But seriously, sparkling pedophile vampires?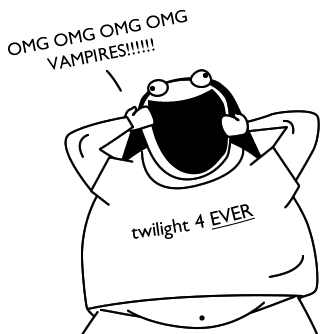 First off, the author creates a main character which is an empty shell. Her appearance isn't described in detail; that way, any female can slip into it and easily fantasize about being this person. I read 400 pages of that book and barely had any idea of what the main character looked like; as far as I was concerned she was a giant Lego brick. Appearance aside, her personality is portrayed as insecure, fumbling, and awkward – a combination anyone who ever went through puberty can relate to. By creating this "empty shell," the character becomes less of a person and more of something a female reader can put on and wear. Because I forgot her name (I think it was Barbara or Brando or something like that), I'm going to refer to her as "Pants" from here on out.