A while ago I wrote about the myth of the Velvet Hammer, a drink whose recipe is so contested that I was able to collect 16 or so recipes from various sources, including books and the Internet.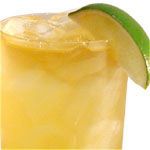 Today, I was looking at an article on the Food Network (via Slashfood) about the top 10 summer drinks. In that list were a couple of classics, including the venerable Mai Tai, so I decided to check up on the recipe, in case I decided to make one tonight in my new basement bar:
Mai Tai #1
4 ounces light rum
2 ounces Triple Sec
8 ounces passion fruit juice
2 ounces dark rum
Lime wedge
It all seemed good; rum, Triple Sec, a lime wedge … I'd have to go to the store and pick up some more passion fruit juice. Wait … passion fruit juice? Since when was that in the Mai Tai? And where was the Orgeat syrup? Hmmm. Looks like I should perhaps check Drinks Mixer to see what the real recipe is:
Mai Tai #2
1 oz light rum
1/2 oz creme de almond
1/2 oz triple sec
sweet and sour mix
pineapple juice
1/2 oz Myer's® dark rum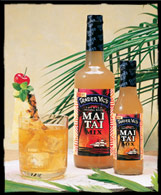 That looks a little better, but still — what's with the pineapple juice? Several commenters left their own recipes:
Mai Tai #3
1 ounce light rum
1 ounce gold rum
1/2 ounce orange curaçao
1/2 ounce Orgeat (Almond Syrup)
1/2 ounce fresh lime juice
1 ounce dark rum
Mai Tai #4
The real mai tai has 5 tropical juices and rum. [no it doesn't]
Mai Tai #5
1 ounce Sailor Jerry Spiced Rum
1 ounce Cruzan Black Strap Rum
1/2 ounce Torani Orgeat
1/2 ounce Bols Orange Curaçao
1/4 ounce Rock Candy Syrup (homemade)
juice from one fresh lime
Mai Tai #6
1 oz Fresh Lime
1/4 oz Orgeat
1/4 oz Triple Sec or Cointreau
1/4 oz Sugar Syrup
1 1/2 oz Jamaican Rum
1 1/2 oz Martinique Rum
Mai Tai #7
1oz Jamaican rum (Appleton Estate is good)
1oz Martinique rum (Rhum St. James is good)
1/2 oz orange curaçao (not the blue stuff)
1/4 oz Orgeat syrup (not creme de almond)
1/4 oz sugar syrup (and Vic puts a little vanilla in his)
the juice of one small lime (3/4 oz approx.)
Mai Tai #8
1 oz light rum
1 oz gold rum
1/2 oz triple sec
1/2 oz orange Curaçao (sub almond syrup)[sic – I think they meant Orgeat syrup here]
splash grenadine
juice of 1/2 lime or splash of roses lime juice
1 oz orange juice
1 oz pineapple juice
splash of dark rum
garnish pineapple wedge
Mai Tai #9
1 1/2 oz Myer's Plantation Rum
1 oz Cuban Rum
3/4 oz fresh lime juice
1 oz fresh grapefruit juice
1/4 oz Flaernum
1/2 oz Cointreau
2 dashes Angostura Bitters
1 dash Pernod
Shell of squeezed lime
Garnish with four sprigs mint
Add a spear of pineapple.
Mai Tai #10
jigger of gold rum
fruit punch
banana/pineapple juice
Granted the origin of the Mai Tai is still disputed, but "Trader Vic" Bergeron would appear to have the most reliable claim on this drink. Many of the comments agreed (#3, #5, #6, #7), and some people left slight variations on the original formula defined by Trader Vic. Here's as close as we can get:
Mai Tai: The Original Formula
2 ounces 17-year-old J. Wray Nephew Jamaican rum
1/2 ounce French Garnier Orgeat syrup
1/2 ounce Holland DeKuyper Orange Curacao
1/4 ounce Rock Candy Syrup
juice from one fresh lime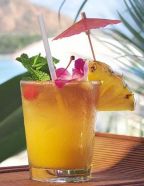 This one looks sound. At least it matches what is listed on Trader Vic's website:
I was at the service bar in my Oakland restaurant. I took down a bottle of 17-year-old rum. It was J. Wray Nephew from Jamaica; surprisingly golden in color, medium bodied, but with the rich pungent flavor particular to the Jamaican blends. The flavor of this great rum wasn't meant to be overpowered with heavy additions of fruit juices and flavorings. I took a fresh lime, added some orange curacao from Holland, a dash of Rock Candy Syrup, and a dollop of French Orgeat, for its subtle almond flavor. A generous amount of shaved ice and vigorous shaking by hand produced the marriage I was after. Half the lime shell went in for color … I stuck in a branch of fresh mint and gave two of them to Ham and Carrie Guild, friends from Tahiti, who were there that night. Carrie took one sip and said, "Mai Tai – Roa Ae". In Tahitian this means "Out of This World – The Best". Well, that was that. I named the drink "Mai Tai".
This is not the same problem as with the Velvet Hammer. The Mai Tai is much more like the Martini in this case, a very well defined recipe that has not changed much over the years, but people who aren't interested in looking it up produce their own recipe and add the "Mai Tai" moniker to it.
Granted, the recipe may have had to change, owing to the decreasing availability of the ingredients. Says the Trader Vic website:
The success of the Mai Tai and its acceptance soon caused the 17-year-old rum to become unavailable, so it was substituted with the same fine rum with 15 years aging which maintained the outstanding quality.
Also, other ingredients started disappearing:
Consistent quality was maintained in both a 15- and 8-year aging. This rum, though excellent, didn't exactly match the end flavor of the original 17-year old product. This desired nutty and snappy flavor was added by the use of a Martinique rum. During this period Trader Vic had also changed the original Orange Curacao to one produced by Bols which was more to his liking. The popularity of the Mai Tai demanded that production on the bars be streamlined. Each individual bar was instructed to pre-mix the Curacao, Orgeat and Rock Candy Syrup in appropriate amounts.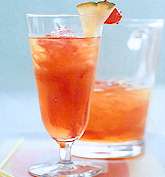 Which brings us to:
Mai Tai: The Revised Original Formula
2 ounces Martinique rum
1/2 ounce Henry Smith (Galen Co.) Orgeat syrup
1/2 ounce Bols Orange Curacao
1/4 ounce Rock Candy Syrup
juice from one fresh lime
And, honestly, it's almost impossible to find Orange Curaço today. Substituting with Triple Sec is preferable to using Blue Curaço, lest you end up with a green Mai Tai.
So, in my bar, right now, I have only the following rums: Pusser's Navy rum, Havana Club 7 year, Havana Club Cask reserve, J. Wray Nephew Jamaican overproof white rum, and a variety of Bacardi flavoured rums. R says "No more rum," so I'll have to make due with what I've got for now. So, assuming I hit the grocery store for some mint and pineapple spears (I really hate opening up a can or carving a pineapple for a damn garnish), here's what my recipe will look like — My Mai Tai:
Mai Tai #13
1oz Havana Club 7 year-old rum (Cuba)
1oz Pusser's Navy rum (British Virgin Islands)
1/2oz Triple Sec
1/4oz whatever brand Orgeat syrup is in my fridge
1tsp superfine sugar
juice of 1 lime
garnish with a mint sprig,
one pineapple spear,
and a cocktail cherry