Apparently, this billboard went up over Easter weekend. All the religious people stayed away from businesses and restaurants nearby.
Now someone just needs to put this up near a church.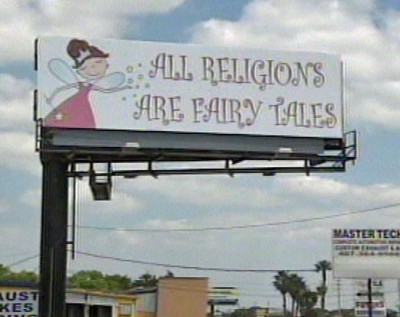 Business Owners, Customers Upset Over Controversial Billboard – News Story – WFTV Orlando
It looked harmless enough, but the words on a billboard unnerved so many people that a popular restaurant nearby actually lost business. The billboard was on Colonial Drive near Old Cheney Highway.
Although the popular Straub's Seafood restaurant often advertises on it, it wasn't their billboard. The sign was taken down after Channel 9 started asking questions.
The billboard came down around 4:00 Friday afternoon and nearby business owners are relieved. Straub's Restaurant can replace the sign with the night's specials.
Seriously though … this billboard unnerved people? No, you want to unnerve someone, you put up a billboard like this: